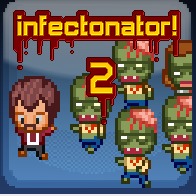 Its been a while since the last time i played zombie games. Today i had some free time and wanted to relax a bit while playing some nice game on my laptop. I dont know while but i searched for some zombie games and infectonator was the first one i found. I dont know if i was just lucky or everyone else likes this game. It was featured in the "most popular games" in one of the websites so i thought let`s try it out.
While in most of the other games you are on the side of the good and you fight against the evil, this time the story is different. You have made some infection and you gotta spread it across the whole globe. You start by small villages and towns and you end up in big cities and metropoles. While proceeding in the game there are updates and improvement you need to buy from the money earned from the infection.
The game has nice sound effects featuring screams and other audios while you play the game. There is also a music in the background which can be disabled if you want to play your own music. The graphics are also nice and require minimum graphic card power, so the game can be played on almost all devices and players. This is my review of the game and if you want to try it out Infectonator: World Dominator here and the sequel of the game called Infectonator 2 at this website. Hope you enjoy it!