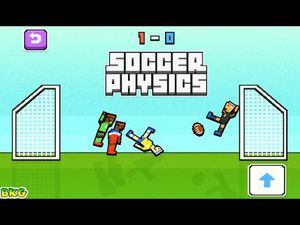 History of the Game
Soccer Physics is an iOS and online desktop flash game. The game is developed by Otto-Ville Ojala. Its first version was launched on 27th July last year. The developers of the game are also known for other popular games such as Wrestle Jump, Tug the Table and Mole Hammers. Although initially Soccer Physics was launched as a flash game available on several online gaming sites, the success of the game convinced its developers to release it on iOS as well. Ever since its launch, the game gained popularity on iOS and is among the top downloaded paid games on the App Store. Soccer Physics is not available on the Play Store as no Android version of the game exists. If you find this game hard then check out the Soccer Physics Tips and Tricks.
The Science of Soccer Physics
The science of this game is that it does not follow any laws of physics. The players are mostly floating and bouncing around. The basic goal of the game is to score goals, just like in any game of soccer. Soccer Physics has two opposing teams with two players on each team. Both players bounce and kick at the same time when the screen is tapped or the mouse is clicked. The team to score five goals first wins the game.
The game has different difficulty levels that are designed like the rounds of a football tournament. The difficulty of the game increases as the player progresses from the qualifying round to the finals. Soccer Physics is a game based on luck and timing and requires no special skills, expertise or experience, which is the reason for its popularity. The game can be played by a single player as well as by two players at once. If you are still wondering if you need to try the game or not you can check other reviews about the game like this Soccer Physics game review by Silvana or this unknown writer review who says that Soccer Physics is the funnies sports game. If you still are in confusion the you can also check this article which says that this is everything you need to know about soccer physics.